Standard Probe Stations
Manual Probe Stations
The SPS-1000, SPS-2000, and SPS-2200 systems are MicroXact's premier manual probe stations designed for flexible and easy semiconductor device testing. The high performance and affordability of these systems put them in a class of their own.
Semi-Automated Probe Stations
The SPS 2600, SPS 2800, and SPS 12000 Series are MicroXact's semi-automated probe stations, designed to support device characterization and semi-automatic probing of up to 200mm wafers.
XactTest Probe Station Automation Software Solution
Automated Probe stations are MicroXact's line of precision automated probe stations. Combining state-of-the-art functionality with ease of programming and use, our automated probe stations are the most cost effective semiconductor testing solution on the market.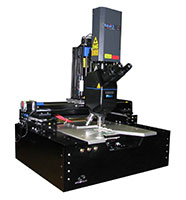 LCS- 4000 Series Analytical Probe Station with Laser Cutting System
The LCS-4000 Series Analytical Probe station with Laser Cutting System gives the user maximum flexibility in semiconductor diagnostic cutting, failure analysis, trimming, marking, and topside layer removal. All of these functions can be performed on a microscopic level on this one system, which provides a high level of performance that is remarkably easy to use.